SF Bay Area LifeWays® Early Childhood Certification
Registration for this training is now closed.
Location
: San Francisco Bay Area
Director
: Kate Hammond
Phone
: 707-623-9863
Email
:
KateH@LifeWaysNorthamerica.org
Dates:
Tentative schedule for 2019-20
All classes will be at Marin Waldorf School unless noted
Aug 24, 2019 location to be confirmed
Sep 7
Sep 21
Oct 4,5,6 – retreat at Green Valley Farm
Oct 19
Nov 2
Nov 16
Dec 7
Jan 11
Jan 25
Feb 8
Feb 22
Mar 7
Mar 20,21,22 – retreat location to be confirmed
Apr 4
Apr 18
May 2, location to be confirmed
May 16
May 29,30,31 -retreat at Green Valley Farm
Jun 13
Jun 20
LifeWays Early Childhood Certification Trainings are offered throughout North America.
It is with GREAT JOY that we announce that a new session will begin in the San Francisco Bay Area, CA in August 2019!
Completing the LifeWays Training can open NEW Opportunities for you:
• Childcare providers in homes and centers • Early childhood assistants, teachers and nannies • Parents and grandparents • Parent-child teachers • Early Childhood Aftercare teachers • Homeschool parents. Become the parent or early childhood professional you long to be.
LifeWays students learn from master teachers in 200+ in-class hours over a year's time. Additionally, mentor-supported independent study enriches learning between sessions. The LifeWays curriculum is divided into four categories:
Human Growth and Development – based on the insights of Rudolf Steiner and others
Child, Family and Community – home health care practices, unique and beautiful handwork, gardening and meal planning, meaningful celebrations and festivals, self-care and more
Program Curriculum – deepening your classroom and in-home practices (artistic and practical, nature and nurture); fundamentals of establishing child care, parent-child, after-school and daily homeschool rhythms; and more
Living Arts – learn the Living Arts as developed by LifeWays and the keys to joyful, purposeful living through Practical Activity, Nurturing Care, Creative Exploration and Social Awareness
LifeWays students graduate with a renewed sense of joie de vivre in their daily lives. Strengthened by an amazing view of the developing human being, a lifted experience of personal growth, guidance in establishing successful programs and a sense of being grounded in the practical, artistic and nurturing skills, they tell us over and over again that this training was a life-changing experience for them.
The journey through the training was incredible and life-changing. I can't believe how much I've learned this past year, but this made me realize how much more I can learn if I choose to (which I do!) I loved our ceremony and the sense of accomplishment it brought. What I loved most though, was meeting each of you wonderful people and working with you to create something beautiful and meaningful.  Rhoda Kambandu
Core Teaching Staff:
Cynthia Aldinger is founder and Executive Director of LifeWays North America; author of Life is the Curriculum and Home Away from Home: LifeWays Care of Children and Families.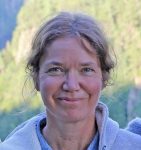 Kate Hammond is a mom of two boys, a long-time Waldorf Early Childhood teacher and LifeWays teacher. Kate is also trained in Spacial Dynamics.


The SF Bay Area training meets in the San Francisco Bay Area, eighteen Saturdays over 11 months (all day, 8am to 5:30pm). In addition there are three long-weekend retreats for cooking, gardening, outdoor observation, circle games, wet felting, puppetry, storytelling and more.
Housing and Childcare: While LifeWays does not directly provide housing or childcare, we are happy to provide applicants with contact information for local resources.
Meals: Snacks and daily organic hot lunches are included in tuition. Students provide their own breakfast and dinner
Your journey toward joy-filled and purpose-full living begins in August 2019, won't you join us in the SF Bay Area?
Contact the Student Services Director to learn about the application process.