LifeWays® Early Childhood Certification
$225 discount if registered by May 1, 2019!!
Location
: Sacramento, CA
Director
: Sarah Riffle, Student Services
Phone
: 916-743-7272
Email
:
sarahr@lifewaysnorthamerica.org
Dates:
Sunday, June 9, 2019 (evening only); Monday, June 10 – Saturday, June 15, 2019;
Friday, August 2 – Saturday, August 19, 2019;
Friday, November 8 – Monday, November 11, 2019;
Saturday, February 8 – Sunday, February 16, 2020
Location: 10030 Fair Oaks Blvd, Fair Oaks, CA 95628
The LifeWays Early Childhood Course is for anyone who works or shares their lives with young children: childcare providers in homes and centers, early childhood teachers, parents, nannies and grandparents. The training involves four one-week seminars plus reading, observation and writing between sessions. There are also monthly telephone conversations with a mentor, who is also available to visit you for two days during your training.
Note: If one of the above dates doesn't work for you, it is possible to make up a session in another part of the country, such as CA Coast or New England. See the website for other dates and locations.
Sample Schedule:
Breakfast on your own
8:30 a.m. – Morning Songs/Poems and Announcements
9:00 a.m. – 1st Morning Presentation, such as
"The Twelve Senses and the Four Foundational Senses"
10:30 a.m.- Break
11:00 a.m.- 2nd Morning Presentation, such as "Understanding Children's Drawings"
12:30 p.m.- Lunch
1:15 p.m. – Clean-Up/Fresh air walk on your own
1:45 p.m. – Movement
2:50 p.m. – Music
4:15 p.m. – Handwork (snacks available)
6:00 p.m. – Close
Dinner on your own
7:00 p.m. – (Most evenings have no classes; Open Discussion/Artistic presentations on some evenings)
Core Teaching Staff:
Cynthia Aldinger is founder and Executive Director of LifeWays North America; author of Life is the Curriculum and Home Away from Home: LifeWays Care of Children and Families.
Student Services Director: Sarah Michel Riffle has over 11 years of experience teaching in Waldorf Early Childhood Education. She served as the Waldorf Kindergarten Specialist in the Orange Blossom Kindergarten for 9 years. Sarah has RIE and LifeWays certifications, as well as a B.S. in Family Studies from CSUS.
Housing and Childcare: We do not provide housing or childcare but will provide applicants with contact information for local resources.
Meals: Snacks and daily organic hot lunches are included in tuition. Students provide their own breakfast and dinner
Join us in Sacramento!
Sacramento is just a short drive away from both the mountains and the coast. Make a family holiday of your training time!
Learn to create magical puppet shows for young children using silks, hand-made puppets and natural materials.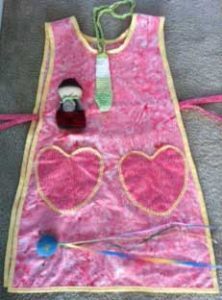 Create beautiful aprons for yourself and your children.
Colorful Origami hangings can be birthday gifts.