75 Minute DVD and all continuing education materials – 15 hours continuing education-CEUs:
This course consists of five continuing education packets, each consisting of a 15-minute video, reading materials, and questions to answer.
Family Style Childcare
This packet offers a glimpse of the benefits of mixed-age care in a family-style setting.  Special emphasis is given to the value of free play.   Articles: "Why we provide family style childcare," by Mary O'Connell; "Benefits of mixed-age groups for the child," used with permission from familychildcare.org.
Home Away From Home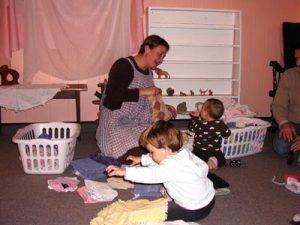 This packet explores what it means to create a home-like setting for children.  Includes a description of the Living Arts (domestic activity, nurturing care, creative discovery, and social ability) and a discussion of caregiver/child attachment in childcare.  Readings: Excerpt from Home Away From Home: LifeWays Care of Children and Families, Chapter Four by Cynthia Aldinger; "Attachment in Child Care," by Mary O'Connell.
Forest Kindergarten
This packet allows a glimpse into a wintery morning with LifeWays' Forest Kindergarten in Milwaukee, a mixed-age program for children ages three to six in which the children spend their entire morning outdoors in a natural setting. The benefits of nature play are emphasized. Article: "Back to School: Back Outside!" (Executive Summary, Introduction and Chapter One), used with permission from the National Wildlife Federation.
Settling Into Sleep
This packet shows a peaceful and nurturing naptime routine at LifeWays, with plenty of suggestions for how to encourage a more restful transition to sleep for the children in your care.  Articles: "Younger children are getting fewer hours of sleep," by Mary O'Connell; Sleep article from LifeWays Early Childhood Center Newsletter, by Jaimmie Stugard, "SLEEP," by Cynthia Aldinger.
Nurturing and Nourishing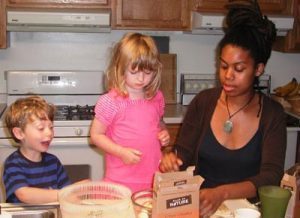 This packet features a visit to the LifeWays kitchen, where whole foods cooked from scratch with natural ingredients are on the menu.  The accompanying materials offer plenty of suggestions for including children in the preparation and serving of their food.  Article: "Child Care Home:  Appetites and Healthy Attitudes Toward Food," by Elaine Wilson and M. Burns, used with permission from the National Network for Child Care.
All packets include an activity to try or observation to complete. Once you complete the questions and send them in to the address provided, a LifeWays instructor will evaluate your responses.  You will receive a certificate of completion in the mail once the course is completed. These continuing education packets are approved by the Wisconsin Registry for childcare.  If you are a member of the Registry, your continuing education units will be reported to the Registry for you. Childcare providers in other states will receive a certificate of completion to submit the units in whatever form your state requires.
Note – CEU DVDs and materials are shipped to US addresses only.
DVD may also be purchased without CEUs. Learn more.
Price $100.00