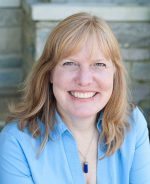 When her own children were young, Mary had a LifeWays home program with such a long waiting list that she decided a LifeWays center was necessary.  In 2002, she opened LifeWays Early Childhood Center in Milwaukee where she served as director for 13 years.
Mary has a business degree from University of Wisconsin-Madison and was a student in the very first LifeWays training. She is a lead teacher and Training Coordinator for LifeWays North America and serves as Board President, and in 2010 co-authored Home Away From Home: LifeWays Care of Children and Families with Cynthia Aldinger.
Mary's favorite thing about LifeWays is seeing both children and their caregivers thrive in a home-like environment that truly values and respects them.