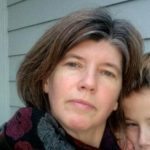 Lisa Boisvert is the mother of two boys and has been working with children and families for the past twenty-two years, first as a homebirth midwife, then as a Waldorf early childhood educator. She majored in Women's Studies and Philosophy in college where a spark was lit for the sacred in the everyday, the divine feminine and the importance of rhythm and ritual.  Lisa has served in nearly every realm of Waldorf early childhood education: as a parent child group leader, mixed age kindergarten teacher, aftercare teacher and in the home with a mixed age nursery program.
For years Lisa felt like a pioneer in the realm of Waldorf early childhood, striving to bridge the gap of understanding of practical life with the young child between birth and the age of three. When she learned of LifeWays North America, she was filled with gratitude and excitement for the beautiful articulation of the needs of the young child, particularly the focus on the importance of and continuity of relationship, and the practical support offered for the early years of childhood.
Lisa is the editor of the online magazine, The Wonder of Childhood, a free online monthly magazine devoted to parenting and Waldorf education. She offers a monthly program based in the rhythm of the year, which may be found, on her blog Celebrate the Rhythm of Life.  Lisa is drawn to the sacred in the everyday, particularly around connection and nourishment through food and relationship, with the natural world, and with each other. She lives in Vermont with her family and flock of hens.